Goji Filler Ritual

The Goji Filler Ritual, intensive and professional treatment, aims to restructure and make particularly damaged hair shiny by deeply repairing its state of hydration. To restore exceptional vitality and shine to the hair, MY.ORGANICS has chosen to use the power of Goji berries. Thanks to the action of this product, the scales of the hair seal perfectly, preserving the proteins that help repair damaged roots and stems: a real cure for unstructured hair.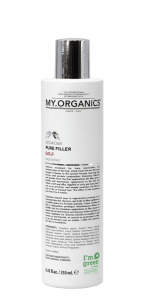 PURE FILLER
GOJI
250 ml
Intensive treatment for deep regeneration and reconstruction of the hair, which treats the hair fibre and changes it thanks to the special formula, featuring Goji berries, with protein composition. Extremely effective and durable, from the first application the filler gives a healthy and harmonious appearance to the hair and makes it soft and silky. Applied to curly and wavy hair, it acts as an anti-frizz, and deeply nourishes the fibre in case of dry or treated hair. The effect of the treatment lasts from 2 to 4 weeks.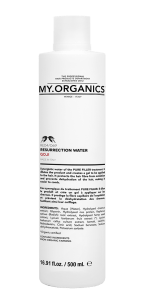 RESURRECTION WATER
GOJI
500 ml
Synergistic water of the PURE FILLER treatment. It dilutes the product and creates a gel to be applied to the hair. It protects the hair fibre from oxidation and prevents dehydration of the hair, making it easier to comb.
For a more permanent result, we recommend completing with our at-home treatment
DREAM HAIR AT-HOME MAINTENANCE KIT:
Supreme Shampoo + Resurrection Sleeping Hair Mask