MY.LUXE LEAVE-IN CREAM

MY.LUXE LEAVE-IN CREAM
The MY.LUXE leave-in that completes the exclusive hair routine, preparing the hair for styling
GOLD AND NEROLI
to make your hair shine
The precious extracts guarantee an extraordinary result: enhance the shine of the hair, giving silkiness and elegant fragrant notes.

LINSEEDS
for gentle nourishment
Linseed extract gently soothes, hydrates and nourishes hair and scalp.

CATIONIC SURFACTANTS
for perfect styling
Delicate surfactants of vegetable origin, reduces the electrostatic charge of the hair, improving their manageability, smoothing them and facilitating the drying process.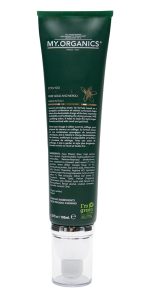 MY.LUXE HAIR LEAVE-IN CREAM
100 ml
Leave-in cream to use before styling, to prepare the hair for styling. Its formula based on a synergistic combination of cationic surfactants helps reduce the hair's electrostatic charge, improving combability and facilitating the drying process.

With a polishing action, it helps to keep the style longer. The olive leaf extract in the formula counteracts the aging of the hair and the formation of free radicals. Formula embellished with neroli and gold leaf.