MY.SCALP TREATMENT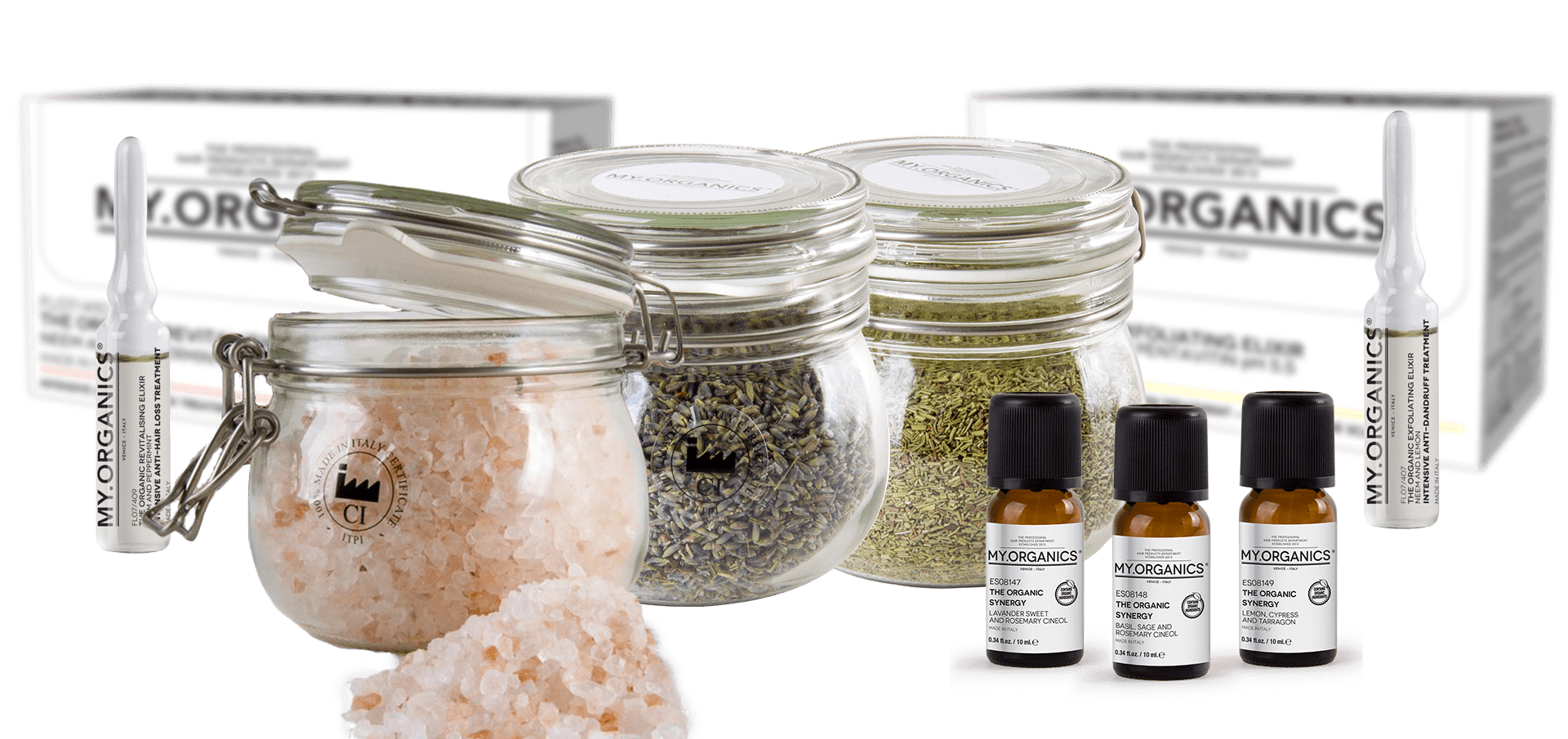 My.Scalp is the new trichological line, specifically created to take care of hair and scalp. It is the result of an accurate selection of the best certified active ingredients available.
THE ORGANIC SKIN ELIXIR – VIALS
Hyaluronic acid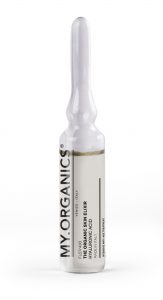 Intensive anti-aging filler effect. Serum filler for face, décolleté and hands skin care. The molecular weight of HYALURONIC ACID-BT is produced by biotechnological fermentation. After the application, it immediately creates a protective film on the surface of the skin, which is immediately hydrated, and becomes smooth and elastic.
THE ORGANIC SKIN BALANCING PREPARATION – VIALS
Neem and sunflower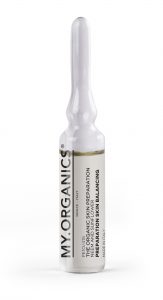 Enzymatic Peeling Treatment. Delicate Peeling, in liquid formula, it helps regenerate and clean the skin deeply, for a light exfoliation of the scalp. It can be applied oxygen therapy equipment.
THE ORGANIC SEBUM CONTROL ELIXIR – VIALS
Neem, lavender and epilobium fleischeri, pH 5.5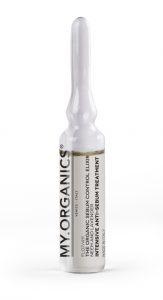 Specifically studied to reduce high sebum production, thanks to the special synergic formula combining NEEM oil, Lavender essential oil and EPILOBIUM FLEISCHERI extract inhibiting bacterial proliferation. It gives hydration, compactness and cleanliness to the scalp eliminating its unpleasant greasy and opaque look. It is very delicate on the skin.
Lavender essential oil is well known for its relaxing and soothing properties, very useful to give relief to the scalp in case of skin's discomforts caused by external agents.
THE ORGANIC REVITALIZING ELIXIR – VIALS
Neem and peppermint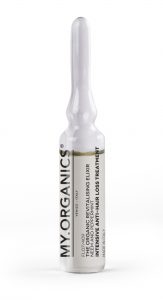 Intensive hair loss – active stem cells. Stimulates hair growth and prevents hair loss. Intensive hair treatment for prevention and maintenance. Hair quality increases of 22% for cm2 and after only 3 months of treatment hair loss is reduced by 60,6%.
Peppermint is a plant which has well known soothing properties. Its essential oil is used, in cosmetics, to reduce scalp's irritation and reddening, bringing a feeling of freshness.
THE ORGANIC EXFOLIATING ELIXIR – VIALS
Neem and lemon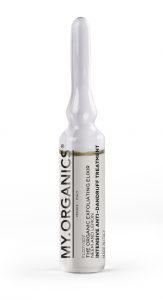 Intensive anti-desquamation treatment that hydrates the scalp. Specifically studied to reduce high desquamation, helping the natural exfoliation process and improving skin hydration and normalization. Special synergic formula that combines Neem oil, lemon essential oil and active substance Pentavitin.
Lemon essential oil: thanks to its vitamins it has an excellent tonic effect on the hair.
SALT
Salts intended for My.Rituals treatments. For a correct use consult My.Rituals manual. Salts are made with an exclusive My.Organics formulation.

HIMALAYA SALT

Ancient crystalline formation with a high mineral content.

DEAD SEA SALT

Salt with a high concentration of active ingredients, as minerals and inorganic substances.

Both are known for the therapeutic properties, and in associating with My.Scalp herbs and essential oils assure a wellness ritual for hair and scalp.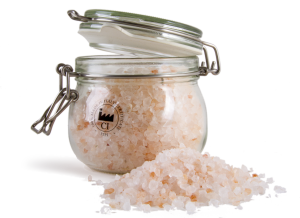 THE ORGANIC DEAD SEA SALT
Rosemary and basil
Ideal for flat and weak, a tonic hair with alopecia. It strengthens the hair and stimulates the scalp. Revitalizing.
THE ORGANIC HIMALAYA CRYSTAL SALT
Lavender, pine, lemon
Ideal for all types of skin and hair. Rich in nutrients, it gives brightness and vigour to the hair. Nutritious.
THE ORGANIC HIMALAYA CRYSTAL SALT
Cypress tarragon
Ideal for weak hair, dry dandruff and desquamation. It rebalances the scalp, and it has an antiseptic effect. Rebalancing.
THE ORGANIC HIMALAYA CRYSTAL SALT
Sage
Ideal for every scalp and hair type. it's full nourishing substances and it gives hair brightness and volume. Nourishing.
HERBS DELUXE
ROSEMARY, LAVENDER, JUNIPER, SAGE

Fine dried herbs of the highest quality, with no additives and dyes, designed for use in combination with the line My.Scalp. Let infuse give off strong scents and release unique properties that can heal and nourish deeply in a natural way, the skin and the hair.
HERBS DELUX ROSEMARY
Needles
Skin-purifying, astringent.
HERBS DELUX LAVENDER
Holes
Silk-effect, antibacterial.
HERBS DELUX JUNIPER
Whole berries
Re-epithelising, stimulating.
HERBS DELUX SAGE
Leaves
Fortifying, invigorating.
OIL
MY.SCALP range features:
ESSENTIAL OIL
Essential oils are 100% pure, designed for use in synergy with the line My.Scalp. Allow you to create custom combinations, making specific benefits to skin and hair spreading aromas which involves the customer in a time of prosperity for the senses.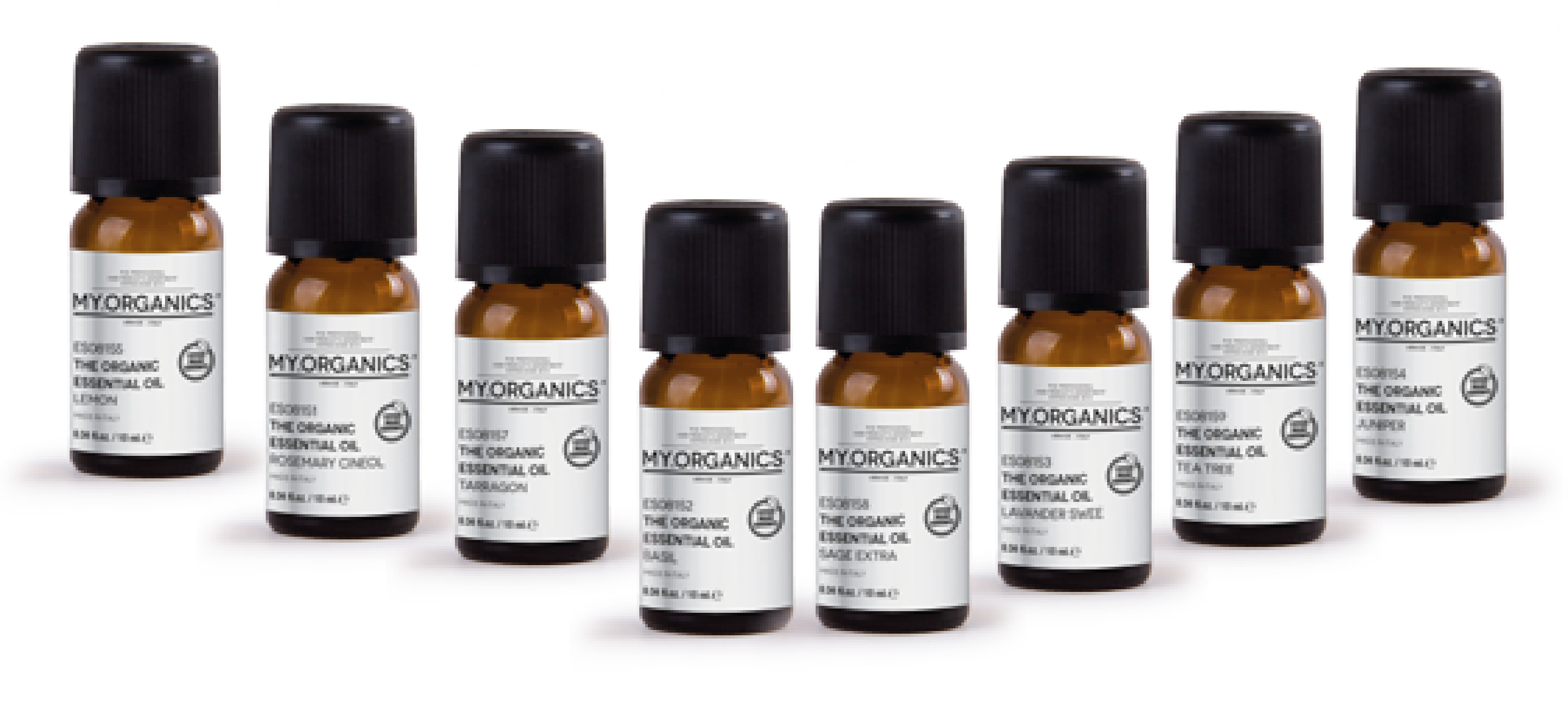 THE ORGANIC ESSENTIAL OIL ROSEMARY CINEOL
Rosemary – purifying properties, astringent, anti-microbial. It stimulates the scalp and hair bulb; regulates sebum secretion.
THE ORGANIC ESSENTIAL OIL BASIL
Basil – antioxidant properties. Rich in vitamins, strengthens the keratinous layer of the cortex of the hair revitalizing it.
THE ORGANIC ESSENTIAL OIL LAVENDER SWEET
Lavender – sebum-balancing and silky properties. Combats excess sebum and dandruff; applied on the lengths fortifies the hair.
THE ORGANIC ESSENTIAL OIL JUNIPER
Juniper – antiseptic, restorative skin. Stimulant for the prevention of hair loss.
THE ORGANIC ESSENTIAL OIL LEMON
Lemon – repairing, antioxidants. Helps in the repair of hair dry, dull and brittle.
THE ORGANIC ESSENTIAL OIL TARRAGON
Tarragon – invigorating, revitalizing. rich components such ad vitamins and minerals, gives vitality to the hair.
THE ORGANIC ESSENTIAL OIL SAGE EXTRA
Fortifying, invigorating properties. It stimulates hair regrowth and prevents breakage.
THE ORGANIC ESSENTIAL OIL TEA TREE
Tea Tree – astringent, anti-dandruff, antibiotic properties. Great soothing in case of skin irritation; prevents the formation of dandruff.
OIL SYNERGY
Dermo-purifying, astringent, antimicrobial properties. It stimulates scalp and hair bulb, regulates sebaceous secretion. Sebum-balancing, smoothing properties. It eliminates excess sebum and dandruff; if applied to the lenghts, it strenghtens the hair.

THE ORGANIC SYNERGY OIL LAVENDER SWEET AND ROSEMARY CINEOL

THE ORGANIC SYNERGY OIL BASIL, SAGE AND ROSEMARY CINEOL

THE ORGANIC SYNERGY OIL LEMON, CYPRESS AND TARRAGON