MY.COLORS LINE

My.Colors line is the new oil coloration without ammonia, parabens, resorcinol and PPD. It is the first formula that does not contain water, but only natural compounds extracted from olive leaves: Oleuropein, Elenolic acid, Hydroxytyrosol, Tyrosol and Rutin. elements together with the active ingredient AMINOTECH™ have a powerful antioxidant, energizing and detoxifying effect.
MY.COLORS HAIR COLOR OIL
Olive leaf extract
MY.COLORS is the colour beauty treatment for all hair types. Its plant-based, precious active ingredients give professional results, and guarantee the total coverage of white hair. Its formula, featuring calendula, argan oil, keratin, aminotech and olive leaf extracts is extremely effective on every type of hair and doesn't damage the scalp.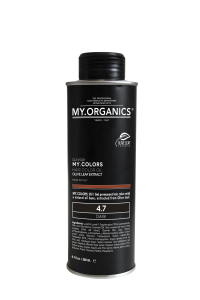 ALL SHADES OF COLOR IN HAIR OIL MY.ORGANICS: